Welcome to Renata Press
---
Books You'll Love Forever
Our Newest Release
We're excited about our SENTENCED TO HEAVEN books! This series features Alan, a wild card in heaven. Each book is filled with lots of humor and mayhem as Alan adjusts to his new home. In the second book, A VAMPIRE IN HEAVEN, his misadventures continue.
DESCRIPTION: In book two, Alan's misadventures in heaven continue. No one understands how he's managed it, but his heavenly body has changed. He has actual blood coursing through his heavenly vessel, and he's become addicted to the stuff. When he's labeled a vampire, everyone becomes concerned that his condition could spread. As a result, heaven is placed under quarantine. Its pearly gates are closed until the mystery is solved.
No one understands how he's managed it, but his heavenly form has changed. In a realm where bodies are, well, "heavenly," Alan has actual blood coursing through his vessel. But there's more! He's become addicted to the stuff. His unintended ability to bring disaster wherever he goes is sure to make you laugh.
So pick up your copy on Amazon today!
---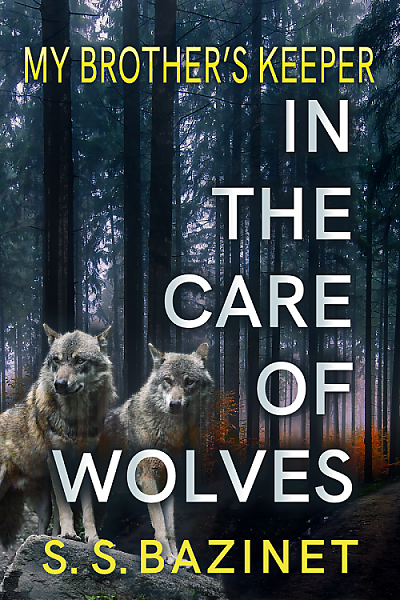 MY BROTHER'S KEEPER
Book one in our series, In The Care Of Wolves!
We're happy to announce that our werewolf thriller has a new cover! A designer named Jimmy Gibbs, did a wonderful job in giving it the look that we wanted! Thank you, Jimmy.
DESCRIPTION: In this fast paced thriller, family ties and loyalty are put to the test, especially for sixteen-year-old Theodore. The WKA, a powerful organization, abducted him as a baby. He grew up bearing the scars of the horrifying experience. When his real family finally locates him, they aren't what he expected. Finding out that he's a werewolf, a gifted and extraordinary being, seems impossible. He doesn't have time to ponder his new identity. The pack is being hunted to extinction. Theodore must flee with his new family before the WKA and other opposing factions deliver a final, lethal blow. However, none of them are prepared for the possibility of the WKA's most deadly weapon, Theodore himself.
EBook: Amazon Paperback: Amazon and Barnes and Noble